A special month-long edition of #KTTeats: The Pumpkin Challenge is an annual tradition where I embark on a month-long journey of daily pumpkin consumption.
Join me for my 8th annual challenge and the new treats that go along with it!
****
It's the most, wonderful tiiiiiime….. of the yeeeeear!
Friends. It is that time of year where everything I bake and consume seems to be orange. This started in first year when a friend recommended we try to eat something pumpkin-y for the entire month of October. However, much like the rest of my life at that time, I had grand ideas and minimal training in focus and effortfulness. So, I had more pumpkin items than usual but would say I fell short of a truly fulfilled pumpkin challenge.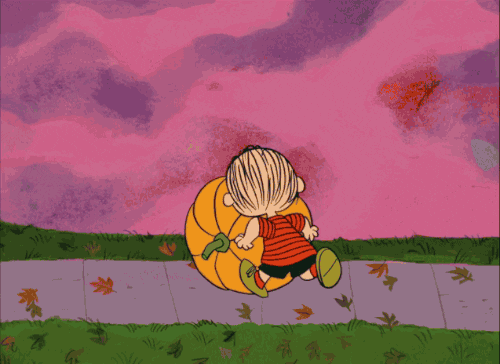 Nowadays, I take my month-long challenges quite seriously (especially if they include consuming delicious things). For the past eight years I have refined my skills in identifying and producing pumpkin items and have developed my skills in sitting down and making a plan to check off that box every day of the month.
I hope you enjoy consuming these goodies with your eyes as much as I enjoyed consuming them with my mouth.
****
Day 1: Pumpkin Cinnamon Rolls (Chocolate-Covered Katie)
I have made these three times, and this time was my second-most successful attempt! I forgot to let the rolls rise one more time before I popped them in the oven, but despite this slip-up, they still were consumed in their entirety.
****
Day 2: Keto-Friendly Pumpkin Muffins (The Low-Carb Diet)
In honour of a friend's birthday, I tried my hand at a keto-friendly recipe to accommodate my friend's current diet!
Head's up: These muffins are not like your standard muffin, if your standard muffin is made of wheat or a gluten-free flour. These coconut-flour and almond meal-based muffins are gooey, rather than fluffy, but they are light and sweet and delicious!
****
Day 3: Pumpkin Spice Cake (Friend!)
My lovely friend knew on this day that I would be traveling and that my ability to acquire pumpkin goodness would be somewhat restricted. So, as a SURPRISE, she baked me a pumpkin spice cake!
This cake had two layers and had many fall flavours packed into each one.
****
Day 4: Pumpkin Pie Smoothie (The Juice Truck)
I'll admit: I was on a mission to find something else on this particular day. However, when I realized that the item was sold out, I saw an opportunity to return to an item from a few Octobers ago – the Pumpkin Pie smoothie from The Juice Truck!
This smoothie is truly like drinking a pumpkin pie through a straw. If you have the opportunity to hit up a Juice Truck location (if any others besides this one sell it?) you must try this flavour! It was topped with housemade coconut whipped cream sprinkled with cinnamon and sweetened with maple syrup – yes, it was as good as it sounds.
****
Day 5: Pumpkin Tarts (Neverland Tea Salon)
Oh boy. 
Neverland Tea Salon is one of my favourite places to go when I am in Vancouver. In recent years they have been really focusing on foods that meet everyone's dietary restrictions, so my pumpkin partner and I ordered a vegan pastry plate! (I thought it said "party plate" when I first saw it, and I would say it lived up to this hypothetical name.)
Our pumpkin item was contained in this pastry bundle: a tiny tart PACKED with pumpkin spicy goodness and topped with coconut whipped cream and chocolate curls! This, and the crème brûlée and truffle and cake, were all so yummy and tasted even better when sharing each tiny bite with a friend.
****
Day 6: Pumpkin Pie Ice Cream (Rain Or Shine Ice Cream)
Rain Or Shine has provided what is likely to be the best photographs of the month – I've peaked early!
MM had sent me a message announcing the arrival of vegan pumpkin pie ice cream at this Vancouver beauty of a shop, and I had just been able to book a flight to the west coast, so we were able to enjoy it together!
I cannot find the right words to describe how good this ice cream tasted.
It was super creamy and full of pumpkin spice, but it was the abundance and texture of the pumpkin pie chunks that really boggled my mind. They were chewy and pumpkin-y and there were so many of them! If you are in Vancouver (or nearby), you must try this.
****
Day 7: Pumpkin Pie (Chocolate-Covered Katie)
Ah, Thanksgiving dinner. With the fullness of bellies and smells of baking comes the eventual classic: the pumpkin pie dessert.
I was feeling flattered to be asked to make my family's pumpkin pie this year. With crust provided by my grandma, I embarked on a pie-making journey with what seemed like too little time based on the recipe. It called for 5 hours of fridge time to set – 5 hours? That must be more than necessary.
Wrong.
My pie only got to chill for about 1.5 – 2 hours and let me tell you, 3 more hours would have been very good. We ended up enjoying some pumpkin pudding! My grandma can attest to the pie needing extra fridge time, as she let an extra slice sit for a couple of hours and it ended up turning into the pie it was meant to be.
Nevertheless, I believe this was a success – I wouldn't even mind making this as a pudding on purpose in the future!
****
Thanks for joining me on the first quarter of my pumpkin month! Keep checking back to see more orange deliciousness and follow me on Instagram and Facebook for daily updates.